Supporters' trust members back Wrexham FC buyout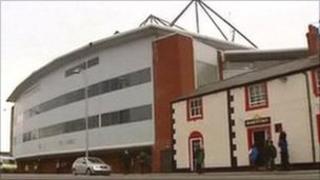 Members of Wrexham Supporters' Trust (WST) have voted unanimously to back plans to take control of Wrexham FC.
Hundreds of fans gave a standing ovation to celebrate the vote after a two-hour special general meeting on Wednesday night.
The board will now conclude its negotiations with current owners Ian Roberts and Geoff Moss and submit its plans to the Football League.
The process should be completed within a few weeks.
Spencer Harris, board director of WST, said: "We've had somewhere between 500 and 1,000 people on their feet supporting the resolution and wanting this to happen in the name of Wrexham Supporters' Trust and for the people of Wrexham and north Wales. [It's] a fantastic result.
"It will take a small amount of time now. We need to conclude negotiations, we need to satisfy all the requirements of the league and the FA [Football Association].
"There's a bond over Wrexham Football Club at the moment. I would expect the questions to be searching and demanding but we will move through those as quickly as we possibly can and then take Wrexham forward into the future."
The proposal backed by members allows the board to immediately invest £100,000 into the newly registered Wrexham AFC Ltd.
The vote has also given the board the authority to invest a further £650,000 this season.
Training facilities
But fans were warned that money would be tight and tough decisions lay ahead.
The trust is working on the basis that average attendances this season will be just over 3,000, and is not expecting additional income from cup games.
Net losses are forecast to be approaching £500,000.
Earlier this month, Wrexham fans helped raise more than £100,000 in a day towards a £250,000 bond which had to be paid to the Football Conference to ensure the club could compete in the 2011-2012 season.
Glyndwr University recently bought the club's Racecourse ground and Colliers Park training facilities.
Negotiations are continuing with the new owners of the Racecourse over leasing the ground.