Wales' university students face rental price hike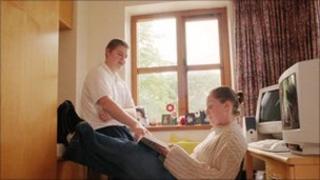 Students in Wales are facing an increase of up to 11% in rental charges for private university accommodation, according to a survey.
Four out of the six main towns and cities show students will have to pay more per week on average, Accommodation for Students website say.
The biggest Welsh rise comes in Bangor where last year's average weekly rent has risen from £59.22 to £65.87.
The figures do not include university-owned accommodation.
But Newport students will not pay any more on average than last year while those living in Pontypridd will see a drop.
Luke Young, president of NUS Wales, said a rise in the cost of accommodation was "deeply worrying" at a time when students are already feeling the pinch.
"As the cost of private accommodation rises, students will be actively comparing prices to see what they can afford," he said.
"The immediate concern is that for some students it may mean choosing poor quality housing to keep budgets under control.
"Students are already feeling the pinch, so we need to be aware how price rises will have an impact."
Cardiff students will see an average £3.59 per week rise to £61.07 while those in Swansea will have to pay £2.42 more on average at £60.17.
Students in Aberystwyth will have a very small rise at £62.01 per week with Newport seeing the status quo maintained at £60.93.
Pontypridd rental prices have dropped from an average of £46.15 a week last year to £45.74.
Simon Thompson, co-founder and director of Accommodation for Students, said: "The rent increases for some cities reflect two key factors.
"One is the changing nature of accommodation coming on the market. The trend is for hi-spec, better quality student accommodation, and some locations are leading the way in this area.
"The other key factor is the popularity or desirability of attending some universities that puts pressure on the accommodation available and hence, the charging of higher rents.
"With such financial pressure being put on students with fees, the cost of accommodation is a real factor in university choice."
'Financial pressure'
He added: "Either way, students who are going through the current clearing process are unlikely to be able to find university accommodation for their first year and so it is really helpful to know precisely how much they will have to pay for private rented accommodation.
"With such financial pressure being put on student with fees, the cost of accommodation is a real factor in university choice."
The increase in fees are mirrored across the UK.
Students in London face the highest rental charges averaging £108.33 per week with Exeter, Uxbridge, Guildford and Cambridge having to pay in excess of £90.
Middlesbrough is the cheapest place to be a student where they are charged an average £43.68.