Wales NHS: Locum, agency costs up amid doctor shortage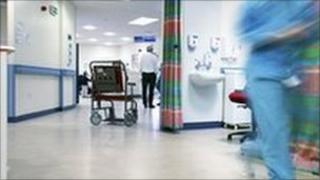 Problems recruiting junior doctors in north Wales have contributed to a rise in NHS spending on locum and agency doctors in Wales by 22% in a year.
Figures obtained by BBC Wales show the increase, despite health boards pledging to save money on agency staff.
The British Medical Association (BMA) said there were problems in recruiting junior doctors in north Wales.
But it said it was doing everything it could to ensure patient care was provided by permanent staff.
The figures were put together by the BBC Wales News website after a freedom of information request to all seven Welsh health boards.
They showed the overall spend on agency and locum doctors rose from £33.6m in 2009-10 to £41m in 2010-11.
The BBC requested data for the last three years, but Abertawe Bro Morgannwg was unable to provide a figure for 2008-09, preventing an all-Wales calculation across the three-year period.
However, health boards have spent more than £100m in the past three years covering the shortage of doctors in Welsh hospitals.
Of the seven health boards, two - Aneurin Bevan, serving south east Wales, and Powys - have managed to make savings on locums, but others have spent more.
Betsi Cadwaladr, the authority covering north Wales, accounted for more than half of the extra £7.5m spent on locum and agency doctors in 2010-11, with Hywel Dda in south west Wales and Cwm Taf in the south Wales valleys also spending more.
Last year the Royal College of Surgeons said temporary doctors were now "propping up" the system and linked the rise to EU laws restricting working hours.
'House of cards'
Dr David Bailey, chairman of the British Medical Association's General Practitioners' Committee (GPC) for Wales, said: "The current system is a bit like a house of cards and it's down to a failure to recruit in some areas.
"In north Wales there is a particular problem with consultants having to cross-cover juniors and those consultants are obviously working to European working directives.
"This has caused lots of problems because rotas are getting more difficult and there is less face-to-face training for juniors."
He called for better "manpower planning" by health boards so clinical care was not affected.
Dr Dai Samuels, chair of the Welsh Junior Doctors Committee of the BMA, said there were mistaken beliefs about north Wales which make it particularly difficult to recruit junior doctors.
"Some people believe that we have our own money, there aren't any trains here and that it's not a very good place to live, work and train, but they are certainly misperceptions," he said.
He said many doctors were opting to go abroad to work in Australia and New Zealand instead of staying in Wales or England to work.
"I'm very concerned, and certainly the BMA are, that the proposed plans to change the NHS radically in England could actually make things even more diverse," he said.
"We might face the problem of an even bigger mass exodus because people might not want to work in Wales forever, so they will fear that if they start working in Wales they won't be able to swap over the border, so they will go to England from the start to make sure that they can actually work there in a few years' time."
Professor Siobhan McClelland of Glamorgan University said using agency doctors "is not a cost-effective option".
"We are always going to have to use agency staff to deal with peaks of demand and holidays, but we shouldn't be very dependent on them because it costs us a lot more," she said.
"It's not great in terms of continuity of care and quality of care for patients. It's better for us to have permanent staff doing most of the work."
Patient care
Kate Watkins, director of the Welsh NHS Employers' Unit, said temporary staff provided a flexibility that was "essential to the safety of patient care", especially at busy times.
She said: "The number of doctors in the Welsh NHS has increased substantially over the last few years, but there are certain specialties and parts of Wales where it remains difficult to recruit junior doctors.
"Where this is the case, considerable effort is being made to make Wales a more attractive place to live and work for junior doctors.
"In the meantime, it is sometimes necessary to appoint short-term locum doctors to provide essential medical cover."
She said the NHS should consider centralising specialist services to free up junior doctors and reduce the need for locum cover.
Asked about recruitment problems in north Wales, the Welsh NHS Employers' Unit said it could not comment on local issues.
The Welsh Government, which is investing 43% of its overall budget in health and social services, said staffing was down to the boards.
A spokesperson said: "As a result of this investment, there are now an additional 1,500 frontline staff working in the NHS in Wales than there were in 2007 - with 222 more consultants and 108 more nursing and midwifery staff working in Welsh hospitals, and 55 more GPs working in our local communities.
"At the same time, there are 529 fewer administration and estates staff."