More Welsh students 'opting for English universities'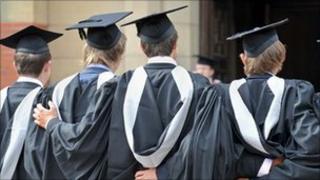 Welsh students could be becoming "more discerning" in university choices, opting for England over the cheaper option of Wales, it is claimed.
Evidence suggests fewer Welsh students stayed in Welsh universities last year.
On the eve of A-level results day, Trina Neilson, of Careers Wales, said it might be because students were focussing on preferred course options.
However, she said financial changes in higher education might see students come "back round" to staying in Wales.
Ms Neilson, chief executive of Careers Wales, said there was evidence fewer Welsh students stayed in Wales, and a corresponding increase "in the number of Welsh students going out of Wales to study in England".
She said: "I think in looking at those choices, perhaps young people are becoming more discerning about choosing something that they particularly want to do in a location they would like to go for."
It has been announced that eight Welsh universities will charge maximum tuition fees of £9,000 a year.
However, it is thought most Welsh students will pay roughly £3,400 a year with the Welsh Government paying the rest.
Ms Neilson said there was recent "volatility" because of the financial changes taking place in higher education.
That might result in people coming back round to thinking "actually, staying in Wales offers me all the things I'm looking for and potentially it might not be quite as expensive for me as going outside of Wales".
Earlier this year, figures from the admissions service Ucas showed that thee number of students from Wales going to Welsh universities in 2010 had fallen dropped by 15.3% from the year before.
However, in that time the number of Welsh students on university courses in England increased by 12.6%.