Ostrich fraudster Martin Evans absconds from Erlestoke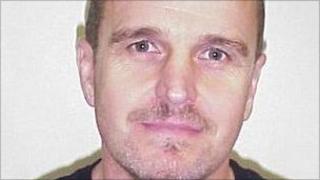 A prisoner, who had netted an estimated £37m with schemes including an ostrich farm fraud, has failed to return to prison.
Martin Evans, 49, from Pontardulais, Swansea, was jailed for 21 years in 2006 for drugs supply and fraud after being extradited from the US.
Wiltshire Police said he absconded after being released on a weekend licence from Erlestoke jail.
Evans is not said to be dangerous but police want to find him "swiftly".
He had been an inmate at the category C prison near Devizes after being sentenced.
In 2006, Swansea Crown Court heard Evans, once an award-winning businessman who ran a successful double glazing firm in Port Talbot, turned to fraud when the firm collapsed.
He swindled 87 investors of nearly £900,000 by promising a 70% return from an ostrich farm set up at Swansea.
Days before his trial for that fraud, he went on the run to Spain and Holland where he masterminded a drugs and money laundering operation, shipping at least £3m of ecstasy and cocaine into Britain.
Evans was caught trying to enter the US in November 2001 during heightened security following the 9/11 attacks. It was found he was using a false passport.
Back in the UK, he was initially sentenced to 24 years in jail, but this was reduced to 21 years three months on appeal.
Evans was also given a separate sentence of eight years for failure to comply with a £4.5m confiscation order which the court heard would "extinguish" his criminal earnings.
The jury was told an investigation had identified Evans owned a property in Swansea, a £2m villa in Marbella and had bank accounts in Latvia, Antigua, Switzerland, Dominica as well as the UK.
Wiltshire Police said Evans was released on temporary licence to an address in Swansea between 5-8 August but failed to return.
Det Con Kevin Hegg said: "We have been working closely with both the prison service and South Wales Police in a continuing effort to trace Martin Evans but are now appealing for the public's help to locate him.
"Mr Evans does not pose an immediate threat to the public but it is important that we locate him swiftly.
'Police National Computer'
"Whilst he has links in south Wales he may well have travelled further afield in the country.
"He is circulated as wanted on the Police National Computer and we are confident that, alongside the public's help and working closely with other forces and partner agencies, he will be located."
Anyone with any information in relation Evans or who believe may have seen him is asked to contact police immediately.
People can also ring the independent charity Crimestoppers on 0800 555 111 anonymously.