NUS Wales president says thousands to miss uni places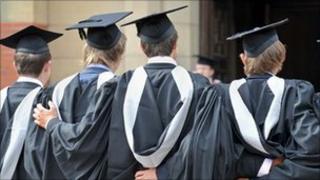 The head of the students' union in Wales has warned that thousands face being left without a university place.
With A-level results out on Thursday, NUS Wales president Luke Young urged more help for those who do not land a course and become "disengaged" from education or employment.
The head of the UK's admission service has said an estimated 200,000 students will fail to win a place this year.
Mary Curnock Cook said this would be a rise of about 3,000 on last year.
Students who have applied for university places will find out on Thursday whether they have been successful.
With tuition fees for non-Welsh domiciled students going up this year, some are expecting this year to be one of the most competitive years yet during the clearing process of finding a course.
Mr Young told BBC Radio Wales: "We're likely to see thousands of students without a place this September.
"Obviously, for those individuals that will be a personal setback, and they'll have to reassess their plans.
"But what we need to look at is the students who become disengaged with the entire process after not getting a place, and to ensure they do have opportunities to go into education, employment and training.
"So, those that are unfortunate enough not to get a place this September, aren't entirely put off and left to their own devices doing nothing."
Ms Curnock Cook, chief executive of university admissions service UCAS, said only half of those who did not land a place last year had not met the grades, while 97,000 had turned down an offer.
She said: "We're well geared up for Thursday and we expect things to run smoothly as they do every year. The numbers are about the same as last year.
"Although people do have to act quickly, if they are well prepared and understand the system the process does work very well."
The Welsh Government said securing a place at university had always been competitive, although tough economic conditions presented a "considerable challenge".