Conservatives say pharmacies can ease burden on GPs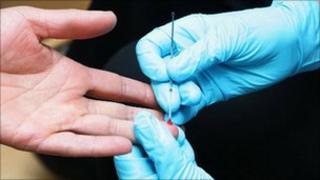 The potential of pharmacies to ease the burden on Wales' NHS is not being fully exploited, claim Welsh Conservatives.
They say Welsh Government statistics show none of Wales' 707 community pharmacies offer tests for blood pressure and cholesterol.
Meanwhile, plans for pilot schemes in two valley areas for pharmacies to offer flu jabs to at-risk people have been halted after pressure from GPs.
Ministers said they were committed to the increasing pharmacies' services.
Welsh Tories say assembly ministers are missing a "clear chance" to ease GPs workload, including pharmacies offering seasonal flu jabs or tests for blood pressure and cholesterol.
They point to the latest figures which show that just six pharmacies (1%) provides support for alcohol misuse and only 11 (2%) offer weight management services.
Conservative health spokesman Darren Millar AM said: "Community pharmacies offer an invaluable service - but their full potential is being ignored.
"The Welsh Labour Government has missed the opportunity to take advantage of the medical expertise that's available.
"A fifth of the adult population is obese, yet only 2% of community pharmacies provide weight management services.
More than 1,000 deaths result from alcohol abuse every year - yet just 1% of community pharmacies offer support for the problem.
"Despite the hard work of its staff, our NHS is currently under immense pressure from Labour's decision to cut its budget by a billion pounds.
"Making greater use of community pharmacies would ease the strain and should be a top priority for this government."
'Pile of these vaccines'
His comments come as doctors' leaders objected to pharmacies in Rhondda Cynon Taf and Blaenau Gwent trialling a system to offer the flu jab this winter.
A BMA spokesman said GPs were usually paid £15 for giving an injection and they were best placed to increase the take-up of the vaccination among the most difficult-to-reach groups, such as children and the sick elderly.
GPs had been encouraged to stockpile the winter flu jab at their own cost and risked being undermined if pharmacies, which did not have to buy the vaccination, were also able to offer it, he said.
He added: "Community pharmacies would be creaming off the easier-to-reach ones, such as vaguely healthy 40-to-50 year olds.
"Then the GPs would be left a pile of these vaccines that they could not do anything with."
Pilot projects
The Welsh Government said: "Despite the UK Government's significant cuts to our budget, we are maintaining investment in health and social services in cash terms, with 43% - the largest single proportion of our overall budget - being invested in health and social services.
"We recognise that pharmacists have a wealth of experience to provide care to patients and we are committed to increasing the services provided by them.
"We have supported two pilot projects in Porthcawl and Merthyr Tydfil to explore the role of community pharmacists in vascular screening. These studies included the provision of advice on healthy eating, alcohol use, cholesterol and blood pressure testing.
"In 2010 a number of community pharmacies in Wales participated in influenza vaccination and a number will be continuing this service in 2011."