New excavations start at Caerleon's Roman fortress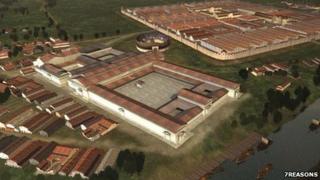 A four-week excavation is starting on new finds outside Caerleon's fortress in south Wales, one of Britain's best known Roman sites.
Archaeologists from Cardiff University think the remains could include a quayside, markets and temples.
They hope the new dig will provide a better understanding about the importance of the town all those years ago.
The discovery was made by chance in 2010.
It is possible the buildings, which may include baths and temples, are first evidence of Roman plans to develop Caerleon into a major settlement.
Caerleon (Isca), which dates from AD 75, is one of three permanent legionary fortresses in the UK, and was used for 200 years. The others at Chester and York - are mostly buried and difficult to excavate.
Students using geophysical equipment in fields outside the Roman fortress made the find in an area that was not thought to have been extensively occupied in the Roman period.
They and their tutors then found the outlines of a series of huge buildings squeezed into the ground between the amphitheatre and the River Usk.
The discovery was made as part of ongoing university excavations.
Over the last five years, eight previously unknown barrack blocks have been found at Caerleon, along with three large granaries, a monumental metal workshop and a very large store building.
"The presence of this suburban complex implies that the fortress was intended to become a major administrative centre in western Roman Britain, but for some reason this never happened," said Dr Peter Guest, a senior lecturer in Roman archaeology.
"The great thing about an archaeological discovery like this is there are lots of new questions that we just don't have definite answers to at the moment."
The dig's progress can be followed via their blog on the Council for British Archaeology's website.
People can take part in a tour of the site daily, except Wednesdays, at 11:00 BST and 14:30 BST.