Lynette White perjury trial witness 'admitted murder'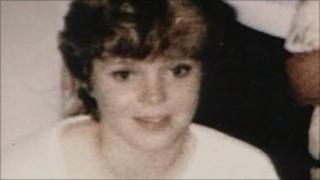 A man whose evidence helped wrongly convict three men for murder once confessed to police that he was the killer, Swansea Crown Court has heard.
Paul Atkins, 56, had said he wrestled prostitute Lynette White to the floor before stabbing her, but now denies any knowledge of the crime.
The men known as the Cardiff Three were later cleared of the killing.
Eight ex-police officers deny conspiracy to pervert the course of justice. Two other people deny perjury.
Ms White, 20, was found stabbed 50 times at her flat in Butetown, Cardiff, in 1988.
The trial follows a new investigation into how the Cardiff Three - Stephen Miller, Yusef Abdullahi and Tony Paris - were prosecuted in 1990 for her death.
They were released by the Court of Appeal two years later, although Mr Abdullahi has since died.
The eight former police officers have been accused of manufacturing a case against the three innocent men.
The court has heard Mr Atkins, who twice gave evidence against the Cardiff Three, was babysitting at a nearby house on the night Ms White was murdered.
He had told the jury that he signed a statement saying he had heard her screams only after a police officer threatened to charge him with the crime.
Varying accounts
Giving more evidence on Friday, Mr Atkins said that he had even confessed to the killing but he could not remember telling then Det Chief Inspector John Ludlow about the details.
DCI Ludlow had logged Mr Atkins as saying he had met Miss White in the Custom House pub, in the then docks area of Cardiff and that it was agreed he would have sex with her.
Mr Atkins told the court that he was gay and had not said anything in his 1988 police interview about having sex with her.
Nor did he say to the detective that after killing Miss White he had cut both her wrists and her throat, the jury heard.
"He's making that up," said Mr Atkins.
Mr Atkins agreed he had told police several different versions about what happened at Flat 1, 7 James Street during the early hours of February 14, 1988.
Neighbour with knife
But he denied that, before he "confessed," he had told DCI Ludlow that Mark Grommek, a friend of his and the occupier of Flat 2, had murdered Ms White.
DCI Ludlow had recorded Mr Atkins as saying that Mr Grommek had gone to Flat 1 to have sex with Ms White.
The court heard his police statement claimed that, after hearing a scream, Mr Atkins went downstairs to see Mr Grommek emerging from the flat covered in blood and carrying a blood stained knife.
Mr Atkins told the jury that he could not remember accusing Mr Grommek although he said, "but I might have said it".
Mr Atkins went on to provide more accounts of what he had seen on February 14 and, in the following two years, twice gave evidence at Swansea Crown Court.
In 2003 advances in DNA technology led police to Jeffrey Gafoor, who had not been questioned in 1988.
Gafoor, now 46, admitted murder and was jailed for life.
The eight police officers and two other people have all pleaded not guilty to the charges against them.
The trial continues.