Venomous weever fish beach warning by RNLI lifeguards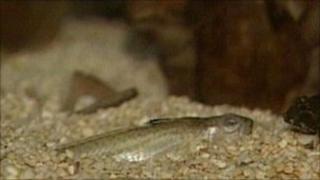 Beachgoers in Pembrokeshire and Ceredigion are being warned about a rise in the number of people being stung by the venomous weever fish.
RNLI lifeguards said three people were stung in Tenby earlier this week and another was injured in Newgale, near Haverfordwest.
There have also been a rise in reports of weever fish on beaches at Llangrannog and New Quay in Ceredigion.
The fish have spines laced with venom and hide in the sand in shallow water.
The RNLI said the increase in injuries coincided with a rise in temperatures.
Phil Davies, RNLI lifeguard manager, said: "It's great to see people enjoying the Welsh beaches in this warm weather, but we would like to ask the public to be careful when walking in shallow water.
"A weever fish sting can be particularly painful and they are very hard to spot since they're buried in the sand.
"Our advice to avoid being stung is to always wear some kind of footwear when walking in shallow water, whether it is a flip-flop or a jelly shoe."
People who are stung are advised to approach the RNLI's lifeguards, who are trained first aiders.