Miss England winner Alize Mounter is from Wales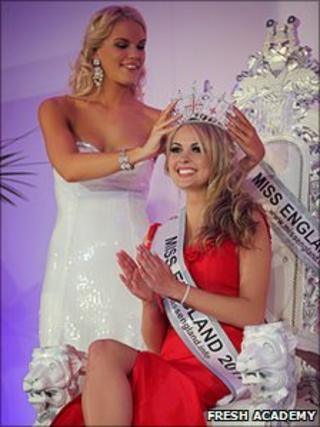 The new Miss England will carry a little secret as she competes in the Miss World competition later this year - she is actually Welsh.
Alize Mounter, from Beddau, Pontypridd, who competed in Miss Wales in 2010, lives in London and qualified as a UK passport holder.
The 22-year-old was crowned Miss England against 10,000 other hopefuls.
She will now compete for the Miss World title against, among others, the current Miss Wales, Sara Manchipp.
Ms Mounter said: "I am so happy and I want to be a good role model for aspiring young women.
"I genuinely want to make a positive difference to the world. I want to support England and become an identifiable face for the country."
She will now promote England on the world stage.
Miss Wales organiser Paula Abbandonato, who got to know her when she competed in Miss Wales, said Ms Mounter would do her adopted country proud.
"She was in Miss Wales last year. She won the regional Rhondda Cynon Taf title but lost out in the Miss Wales final," she said.
"We always knew she would do well, though.
"I'm looking at it that we've got twice the chance of winning Miss World now!"
Although she was raised in south Wales, Ms Mounter does have English heritage. Her father is English and her mother Hungarian.
Ms Abbandonato described her as a "lovely girl" and said there was no mistaking where she was from when she spoke.
"I think she's a typical Welsh girl and a typical valleys girl in the nicest sense," she said.
"She's very easy going, very good humoured, laid back, extremely personable, very beautiful and just takes the world in her stride."
She added: "It will be interesting watching the media interviews - she's got a really Welsh accent!"
Ms Mounter, who is studying journalism at Roehampton University, even lists a basic knowledge of Welsh among her achievements.
She is no stranger to competition after appearing in the TV show Britain's Next Top Model last year. A keen runner, she has also modelled for many household names.
Angie Beasley, managing director of Miss England said: "Alize is going to be an ideal Miss England: she is a very beautiful girl with a lovely personality, with a passion for life and helping people.
"This year is so important for our Miss England as the Miss World finals will be held in London on 6 November and she will become the host ambassador at the finals and promote England on the world stage."