Vale of Glamorgan Council welcomes St Athan commitment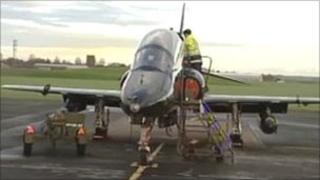 A council leader has welcomed news that use of the St Athan defence base was to increase.
"The fact it's going to be maintained and expanded will be good news for people in the surrounding area," said Vale of Glamorgan council leader Gordon Kemp.
UK Defence Secretary Dr Liam Fox said its capacity would increase despite the axing of a planned £14bn academy.
He also said the Army's headquarters in Wales at Brecon would be retained.
Meanwhile, one military expert told BBC Wales that St Athan had come out well from the defence announcement.
Andrew Brookes, director of the Air League, said: "There are quite a lot of people who are quite unhappy because they've had bases chopped."
"So in that respect it's very good news," he added.
"The decisions they've made will not impact on St Athan - the trade groups and skilled personnel there are secure and he hopes to add to them by the end of the year."
There had been disappointment in the Vale of Glamorgan last October when plans for a £14bn defence training academy at St Athan were scrapped.
The project - which would have created 2,000 jobs - was axed as the UK government announced cuts of up to 8% in the defence budget.
In a statement on Monday to MPs on the latest defence review Dr Fox said: "We will retain St Athan at its current size for now but intend to increase its usage to take full advantage of the excellent facilities there."
Mr Kemp, leader of the Vale of Glamorgan council, said Dr Fox's announcement was good news for the area and the former RAF base, which is now home to special forces.
"It's a welcome announcement that what's there now is going to be maintained and in the future expanded ... perhaps a centre of excellence as far as special forces are concerned," he said.
"The personnel at the base have become an integral part of the local community, contributing to the local economy," he added.
"The fact it's going to be maintained and expanded will be good news for people in the surrounding area."
Vale of Glamorgan MP Alun Cairns said: "There is exciting news for St Athan - it relates to some of the special operations that go on there but by its very nature that means we are restricted about what can be said."
Dr Fox also told MPs that 160 (Wales) Brigade - the Army's administrative headquarters in Wales - would remain at Brecon.
Its closure had been mooted as part of a merger plan.
Mr Brookes, a former RAF wing commander, said there could now be potential to expand Brecon and other bases in Wales as soldiers returned from duty overseas.
"Although the RAF is cutting back the Army is bringing 20,000 people back from Germany and of course they have to go somewhere," he said.
"Brecon is close to Castlemartin and other facilities which are prime spots."