Lynette White: Police 'aggressive' to alibi witness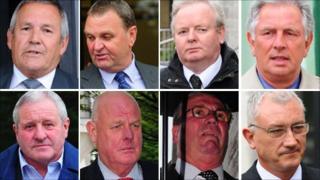 Detectives put pressure on a man being interviewed over the murder of prostitute Lynette White and "put words in his mouth," a jury has heard.
Three men, including her pimp, were wrongly convicted of the 1988 murder in Cardiff. One of Ms White's clients was eventually convicted.
It was claimed an officer in the murder hunt was "aggressive" to a key alibi of a suspect who was later wrongly jailed.
Eight ex-officers deny conspiracy to pervert the course of justice.
Two others deny perjury at Swansea Crown Court.
The prosecution alleges the officers fabricated the case against three men who were wrongly convicted of the murder because, months later, they had still not found the killer.
Ms White's boyfriend and pimp Stephen Miller, Yusef Abdullahi - who has since died - and Tony Paris were convicted in 1990 of the murder, and became known as the Cardiff Three.
Graphic image
Nick Dean QC, prosecuting, told the court the officers began "breaking down" the alibi for Mr Abdullahi - that he was working on a ship, Coral Sea, then berthed in Barry Docks, which was backed up by John Hulse, among others.
Mr Hulse confirmed Mr Abdullahi had been aboard the ship but that "did not suit the prosecution's case at all," said Mr Dean.
Early in 1989, a small team led by then Detective Inspector Graham Mouncher asked Mr Hulse to look at some photographs, but he did not look beyond the first because it showed a graphic image from the crime scene of the extent of Ms White's injuries.
The court heard that by the end of the interview, Mr Hulse made a statement saying he was now "positive" that Mr Abdullahi had not worked continually through the night of 14 February 1988, when Lynette was stabbed to death in the early hours at a flat in James Street, Cardiff.
Mr Dean said Peter McCarthy had also provided an alibi for Mr Abdullahi by saying they had both been working on the ship at the time.
The police team called Mr McCarthy to Butetown Police Station on December 8, 1988, the day after Mr Abdullahi had been arrested.
Mr McCarthy was interviewed by the Det Con Thomas Page, who tried to persuade him that he was wrong about the evening of February 13 and the early hours of the following day, the court heard.
Mr McCarthy stuck to his account but part way through the interview Det Con Page received a telephone call.
"After Page put the telephone down he told Mr McCarthy that Abdullahi had just admitted murder," said Mr Dean.
But Mr Abdullahi, although by then in police custody, was not interviewed until "significantly later that day" and then said only that he had not killed Lynette and had been working on the Coral Sea.
"Thomas Page's attempt to trick Mr McCarthy failed," added Mr Dean.
'Put words in his mouth'
He added: "As it was intended to, the trip by Graham Mouncher and other officers succeeded in strengthening the prosecution's hand when it came to Abdullahi's alibi.
"But that was achieved by methods that were designed to achieve that outcome rather than obtain any genuine clarification from the men."
After his arrest on a charge of attempting to pervert the course of justice, Det Con Page confirmed the timing of the interview with Mr McCarthy but "categorically" denied putting him under pressure or telling him that he must be wrong because Mr Abdullahi had confessed.
Mr Dean said another attempt to discredit Mr Abdullahi took place in early 1989. The efforts were led, he claimed, by then Det Ins Graham Mouncher, who the prosecution say became emotionally involved in the investigation.
Mr McCarthy was again interviewed at Butetown police station. This time a detective "was aggressive, shouting at him, suggesting he knew more than he was saying.
"Attempts were made to put words in his mouth," added Mr Dean.
In 2003 Jeffrey Gafoor, a client of Ms White, pleaded guilty to her murder and is now serving a life sentence.
Three of the men before the court are retired senior officers - Chief Insp Thomas Page, Chief Insp Graham Mouncher and Supt Richard Powell.
The five other retired police officers are Michael Daniels, Peter Greenwood and John Seaford, while Paul Jennings and Paul Stephen were serving officers at the time of arrest.
They are all jointly accused of conspiracy to pervert the course of justice.
Violet Perriam and Ian Massey, with Mr Mouncher, are also each accused of two counts of perjury, which they deny.
The trial continues.