Richard Burton to get Hollywood Walk of Fame star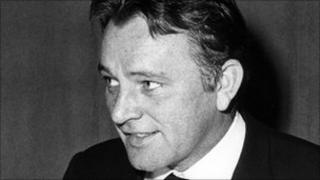 Welsh actor Richard Burton is to get a star on the Hollywood Walk of Fame.
Campaigners hoping to achieve the honour for the miner's son from Pontrhydyfen, near Port Talbot, received the news on Wednesday.
They must now raise around £28,000 in five years to put the star in place and maintain it.
Martin Scorsese recently announced he will direct a film about Burton and Elizabeth Taylor's relationship.
One or two posthumous stars are usually accepted from nominations each year, with about 24 honoured in total.
Burton, who died aged 58 in 1984, received seven Oscar nominations, although he failed to win any.
His turbulent love affair with Taylor, who died earlier this year, captivated the world and campaigners hope his Hollywood star can be placed near hers.
The fundraising drive was the idea of Prof Dylan Jones-Evans, director of enterprise at the University of Wales, a lifelong Burton fan.
He told BBC Wales: "I learnt of the announcement that the decision had been made via Twitter but didn't realise our application had been granted until I checked my email.
"It's fantastic news and it's great that Scorsese is directing the film because that will give the campaign added momentum.
"Normally these stars are paid for by film companies or studios hoping to promote their movie but I think it's important for Wales that we raise the money ourselves.
"It's what Richard Burton would have liked, for us to do this ourselves is important and shows national appreciation for his talent and standing."
The campaign also aims to raise a further £20,000 which will be used to support scholarships at the Royal Welsh College of Music and Drama.
Prof Evans said it had the approval of Burton's daughter, Kate, as well as Welsh actors Michael Sheen and Matthew Rhys.
Recent recipients of the honour have included Oscar-nominated British actor Colin Firth, who plays King George VI in The King's Speech, and US actress Gwyneth Paltrow.
The initial fundraising drive began at the Six Nations clash in February but more events are planned, including the possibility of a fundraising dinner in Hollywood.
Prof Evans said he hoped it would be easier to raise funds, now it is for something "tangible".