Powys WWII pilots Russel Hamer and Jack Hamar honoured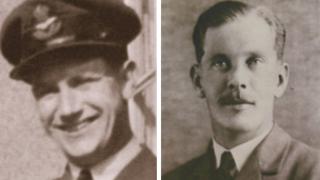 Within a year during World War I, two boys with identical-sounding names were born 30 miles apart in Powys.
Russel Hamer, from Llanidloes, and Jack Hamar, of Knighton, never knew each other, but their lives were to follow very similar paths in the next global conflict.
Both volunteered as RAF pilots at the outbreak of World War II, both excelled in the air, and both made the ultimate sacrifice for their country.
The pair are being honoured as the Battle of Britain Historical Society places commemorative plaques at the schools of about 2,900 pilots who constituted the RAF's "Few" during summer 1940.
The charity's Welsh organiser, Clive Millman, explained the project was not just about honouring the pilots' bravery, but sharing their feats with today's young.
"The key is bringing the battle and the men to life for them," he said.
"You can see the look of wonder in their faces when the penny drops that Battle of Britain pilots weren't always pensioners, and the fight for our survival wasn't always just a chapter in a dusty history textbook.
"They were boys, not much older than the kids we're talking to, which is both terrifying and inspirational, I suppose."
Pilot Officer Jack Hamar, a pupil at John Beddoes School in Presteigne, was a keen racer of cars and motorbikes, and joined the RAF's reserve as war loomed in 1938.
He earned the Distinguished Flying Cross for shooting down four German planes in the days leading up to Dunkirk in June 1940.
He was presented with his medal the following month, but died the next day when his plane stalled in bad weather on return from a sortie.
'Larger than life'
His funeral four days later, on 28 July 1940 brought Knighton to a standstill, said Mr Millman.
"There had been parties less than a week before when Jack had been presented with his DFC," he said. "Everyone there knew Jack as a larger than life character; physically and socially.
"So I can't imagine the sense of loss they must have experienced, coming so soon after such a great high."
Meanwhile, staff pilot Russel Hamer survived the Battle of Britain, despite flying a Boulton Paul Defiant fighter. The aircraft was in practice a death trap which was quickly dropped from service.
In June 1942, he was re-equipped with the latest Bristol Beaufighter, and moved to Tangmere in Sussex.
There he met a woman whose voice he instantly recognised: Ellen Margaret Graves, the radar operator who had been guiding his plane towards formations of enemy aircraft for the past two years.
The two struck up a romance, and became engaged on 5 September 1942. But four days later Russel was killed in a crash-landing after a dog-fight.
He died trying to nurse his stricken Beaufighter towards land, as his navigator, Sgt Ted Walsh, could not swim. Sgt Walsh eventually escaped by parachute but Russel had left it too late to bail out himself, and went down with his plane.
United in grief, Ellen and Russel's younger brother Randolph - an RAF flight electrician - fell in love and were married in 1943.
Their only son - named after his uncle - was born that December, and is attending Wednesday's ceremony at Llanidloes High School.
"It's a tragedy for such a brave man to die," said Mr Hamer, "but had it not happened then my parents wouldn't have enjoyed years of blissfully happy marriage.
"I grew up with the story of Russel, and why I was named after him, but it was only in adult life, when I stopped to properly think about it, that it was transformed in my mind from folklore to something real and terrifying."