Chevron oil refinery blast: Funeral of Andrew Jenkins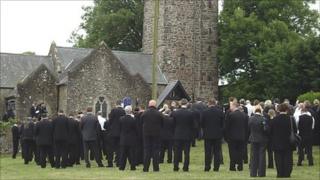 Five hundred mourners have attended the funeral for the youngest victim of the Chevron oil refinery explosion in Pembrokeshire.
Andrew Jenkins, 33, from Milford Haven, was the father of four-year-old twin boys.
Julie Schmitz, 54, Dennis Riley, 52, and Robert Broome, 48, also died in the June 2 explosion at Pembroke. A fifth person was seriously injured.
The funeral was at St David's Church, Hubberston, Milford Haven.
Former church warden Colin Croxford said the incident reminded him what it was like at the height of the fishing industry when a trawler sank.
"So many people from the community, possibly even living in the same road, would be lost," he said.
"It would have been a great community feeling and it's very much that feeling now, because these four people are from Hakin and their families are very much intertwined with community," he added.
An inquest into the deaths has been opened and adjourned.
The incident has affected the whole community and everyone is pulling together, said Rhys Sinnett, a nurse and Pembrokeshire councillor.
"Milford is a very close-knit community and it's hit the wider community very hard," he said.
"Mercifully these incidents are rare and I know there's a lot of support being given to family, friends, within the town, those who've been affected.
"It's just a difficult time all round."
Investigations are continuing into the cause of the explosion, which Chevron said it happened while a storage tank was being taken out of service for maintenance.
Chevron, which has flown in experts from the US, has said the investigation will be a lengthy process.