Greater protection for old in Wales, says commissioner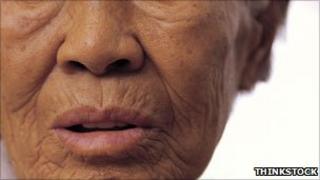 A watchdog wants laws protecting the elderly in Wales to be given the same status as those for child protection.
The Older People's Commissioner for Wales called for a review, as a guide is launched to "reduce confusion" around current legislation.
Ruth Marks said the voices of the most vulnerable were "seldom heard" but needed the most protection.
Ministers said strengthened adult protection was part of a new strategy.
The new guide has been produced by Ms Marks and Aberystwyth University.
The author, legal expert Prof John Williams, said it was possible the Welsh assembly's new law-making powers could lead to Wales introducing new legislation.
He said Scotland already had laws which gave councils the power to step in if it feared elderly people or their property or finances were at risk.
His guide focuses on older people, but is aimed at professionals such as social workers, working with adults at risk.
It is designed to make people more aware of the law available to support their day-to-day work.
The Older People's Commissioner for Wales is the world's first organisation with power to protect the rights and promote the interests of people aged over 60.
Ms Marks said she was aware of the "deep concerns held by many in relation to the abuse of older people".
"While I believe that there is a pressing need to review current legislation on adult protection, I hope that this guide will provide clear, accessible information about current adult protection legislation and will allow those working with vulnerable older people to use the law to support their work.
Safeguarding adults
"It is my hope that adult protection law will be reformed to support the most vulnerable older people in our society, whose voices are seldom heard and who often require the most protection," she said.
Ms Marks would support improvements to legislation so the protection of adults at risk of harm "is given statutory recognition equivalent to that for child protection and protection from domestic violence".
She said new legislation had to dovetail with current domestic violence provisions, and there had to be a new adult social care law for Wales, as proposed by the Law Commission.
In the conclusion to the new guide, John Williams, professor of law at Aberystwyth University, said there was no legislation in England and Wales "dealing specifically with safeguarding adults at risk".
But Prof Williams said it was a duty on councils in Scotland to investigate if an elderly or vulnerable person is at risk themselves - or their property or finances need protection.
He said Scotland's laws gave councils the power of entry and "the ability to apply to the Sheriff's court for an assessment order, a banning order or a removal order".
Prof Williams said social services in Wales have to work within existing council guidance.
The Welsh Government said: "Adult protection issues have already been reviewed in Wales and arrangements to strengthen these processes are being taken forward as part of our implementation of the social services strategy.
"Outlining the Welsh Government's legislative priorities [on Tuesday], the first minister said we will introduce a bill to simplify the web of legislation that currently regulates social care in Wales which will also provide for a robust and coherent statutory framework to safeguard children and adults.
"This will include measures to strengthen the scrutiny of care services and the voice of the service user."
The social care strategy was first unveiled in February.
Meanwhile, the health minister announced on Monday targeted spot-checks on the treatment of older people in hospitals.