Gwent Police to fund five new jobs with seized assets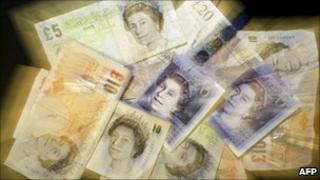 Gwent Police have seized enough cash and assets from criminals in the past five years to fund five new jobs.
Each year police forces receive a proportion of the money they confiscate from career criminals, to fight crimes that blight communities.
This year Gwent seized £1.6m, £400,000 of which will fund one new post and tackle drug dealers and paedophiles.
Head of CID Ch Supt Ray Wise said losing cash was often more of a deterrent to criminals than prison.
The cash and assets were recovered via powers outlined in the Proceeds of Crime Act (Poca).
The money recovered from criminals via the courts is paid to the Home Office, which then redistributes some of the cash to agencies such as the police, the Crown Prosecution Service and the Criminal Justice Board.
In the five years since the Home Office launched its incentivisation scheme, Gwent has recovered enough cash to add five investigators, bringing its financial crime unit to 14.
This latest round will also pay for a new high-tech criminal investigator, to crack down on paedophiles using the internet to target vulnerable children and young people.
The rest will go towards the force's Operation Prudent, which aims at taking drugs off the streets in the Gwent force area.
Ch Supt Wise said it had been a particularly good year for the financial crime unit.
He told BBC Wales: "Those who make money from crime can become icons in their local community.
"People on local estates with no visible form of income driving round in new cars, walking round in bling and enjoying plasma screen TVs - when we are able to seize those cars and luxury items and even seize their houses. That's a better form of justice for people to see sometimes.
Career criminals
"We have found that a prison sentence can be viewed as an occupational hazard by some criminals.
"The idea of career criminals paying for police and investigating career criminals - I think the irony of that is fantastic and fully supported by the public."
The investigators and police work closely with the Crown Prosecution Service to carry out inquiries into the lifestyle and financial affairs of convicted criminals.
The Poca helped enable Gwent Police to seize assets from a man who lured girls as young as 14 into prostitution and earned £529,000 from sex parties with girls he recruited via the internet.
Last year Wayne Baker, 61, of Ebbw Vale, Blaenau Gwent, was jailed for 11 years after admitting 22 sex offences involving young girls at Newport Crown Court.
He was ordered to pay more than £135,000 from his assets or face another three years in jail.
Ch Supt Wise added that it was down to the individuals being investigated to prove they had come by their lifestyle and luxury items lawfully.
He added: "If you commit armed robberies or deal drugs and that gives you a luxury lifestyle then prison is not a big deterrent. However, if you know that lifestyle won't be there when you get out, that can have a greater impact."
Temporary assistant chief constable Simon Prince added: "Our message to offenders is simple - crime does not pay.
"Gwent Police will pursue you through both the criminal and civil courts and any assets you may have will be taken from you.
"The force works closely with partner agencies to ensure that anyone making money through their offending will not only face conviction and possibly jail, but will also be prevented from enjoying the fruits of their criminality."
Gwent Police said anyone wishing to pass on information about criminal activity should call them on 101 or Crimestoppers anonymously on 0800 555 111.