Disability cuts 'to hit 80,000' in Wales, charity says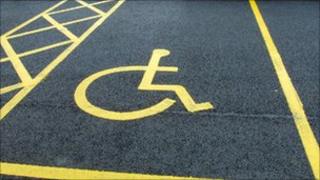 Up to 80,000 disabled people in Wales could be hit by benefits cuts, a charity has claimed.
Cardiff Vales and Valleys Institute of Blind People (CVV) said people claiming middle and lower rates of Disability Living Allowance (DLA) were at risk.
The group took part in a protest march in London by about 40 UK disability groups.
Ministers say the welfare system is failing people and that reforms will see benefits go to those who need them.
CVV, which was formerly the Cardiff Institute for the Blind, claimed that people currently receiving DLA middle rate care could have their payment reduced from the current £55 a week to £20 a week.
People on the lower rate risk losing their entitlement, the charity said.
Head of development Carol Adams the charity wanted to see the UK government review its benefits reforms urgently.
She said: "We are deeply concerned about the impact that planned cuts could have to benefits.
"They could be under threat of a significant reduction or removal of their DLA benefits altogether.
These vital benefits help disabled people to live independent lives.
"They will be amongst the people hardest hit by the government's cuts, losing out in multiple areas including benefit reforms and service cutbacks."
Organisers of the demonstration in London called it the Hardest Hit Protest and said they wanted to send a message to ministers to scrap cuts.
One of those who took part, Danny Eggar, 23, from Cardiff, who claims DLA, said: "I'm joining the march as I'm afraid that many of my friends will be affected.
"I use my DLA for transport, taxis to the doctors, shopping and on software for my computer which is expensive.
'Failing'
"I'm really worried that if there are cuts I won't be able to do everything that I am able to do at the moment, and will lose my independence."
Charities and organisations taking part in the event included Scope, Leonard Cheshire Disability, Mencap, and Sense.
A spokesman for the Department for Work and Pensions said: "Our commitment to help support disabled people live independent lives runs at the heart of our welfare reforms and severely disabled people who need support will always get it.
"The system we have at the moment is not fit for purpose and is failing disabled people.
"We are reforming welfare to make sure that the billions we spend on benefits goes to those who need it and that for the first time disabled people get proper help and support to live independent lives and work in the mainstream jobs that they want."