Vote 2011: Plaid Cymru attacks Labour education failure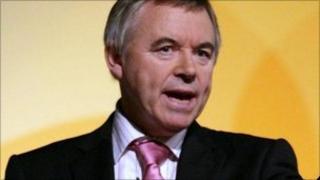 Plaid Cymru leader Ieuan Wyn Jones has attacked what he called "Labour's failing education policies".
Speaking in Caernarfon a week before the assembly election, he said young people were in danger of falling further behind.
Elsewhere, Prime Minister David Cameron told Welsh Conservatives they are now the "party of the NHS."
The Liberal Democrats were in the target seat of Montgomeryshire, and Labour campaigned on community safety.
With voters set to go to the polls to elect 60 AMs next Thursday, Plaid pledged to concentrate on the need to improve Wales' education system.
Despite being in coalition together since 2007, Plaid has attacked Labour's handling of the education portfolio.
Mr Jones promised "transformational" change for education.
Meanwhile, Mr Cameron was at St Asaph in Denbighshire, where he claimed Labour would make cuts in the NHS, which they have denied.
Mr Cameron used his speech to return to a theme he brought up at Prime Minister's Questions in the House of Commons on Wednesday.
Health funding
The Tories have pledged to increase funding to the health service in line with inflation over the next Assembly term.
Under Labour plans funding would remain broadly flat in cash terms over the same period but they have denied it amounts to a cut.
Mr Cameron said: "Make sure, I really want you to make sure, that in the next week, people know that Labour want to cut, yes, cut a billion pound off the NHS in Wales.
"I wonder what Labour politicians of the past would have said about this. Nye Bevan, the man who founded the NHS. I wonder what Neil Kinnock would have said?
He also joked about claims he was sexist for telling a female Labour MP to "calm down dear" on Wednesday.
He began his speech to Conservative supporters by saying: "Don't worry, I'm not going to tell you to calm down."
The prime minister used the catchphrase, made famous in adverts by the film director and restaurant critic Michael Winner, during a row about NHS reforms on Wednesday.
Labour had accused him of sexism.
But Mr Cameron told his audience: "I don't know what it is about some people on the left. It seems that when they put the socialism in they take the sense of humour out."
The Tories have faced questions about how they would fund their NHS pledge from rivals who say it would mean bigger spending cuts for other departments.
Shadow Welsh secretary Peter Hain said: "David Cameron is kicking sand into the eyes of voters by trying to divert attention from his floundering plans to reorganise the NHS in England."
'Unacceptable risks'
Former Welsh Lib Dem leader Lord Carlile was campaigning with his party in his old parliamentary constituency of Montgomeryshire.
The Lib Dems will want to avoid a repeat of last year's general election on 5 May when they lost the seat to the Conservatives.
Shadow home secretary Yvette Cooper joined Labour candidates in Rhyl to highlight a pledge to pay for more police community support officers (PCSOs).
Ms Cooper said the Westminster government was "taking unacceptable risks with the safety of our streets" by cutting police officers and staff across Wales, which was "unfair, unwise and unsafe".
Labour says it can find £14m within the assembly government's budget to provide 500 more police community support officers.