Tregaron elephant mystery remains after pub dig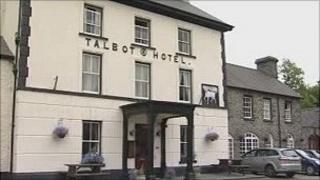 Archaeologists will continue the hunt for a legendary Victorian circus elephant, even though a dig in a pub beer garden failed to unearth clues.
Project leader Dr Jemma Bezant said new information about where its skeleton could lie has come to light.
The Tregaron elephant is thought to be buried behind the Ceredigion town's Talbot Hotel after dying on tour.
A small-scale excavation did not reveal the final resting place of the elephant, known locally as Jwmbi.
Speaking after the five-day dig at the pub, the archaeologist from the University of Wales Trinity St David, told the BBC Wales News website: "We found no signs of the elephant so the mystery continues.
"We've got lots of information from locals with different versions of the story.
"The team are also anthropologists, so we asked people to get in touch with what they think happened and there are a number of places where they think the elephant may have been buried."
She said the hotel once owned 100 acres, and the remains could be elsewhere.
"We could go back and do a geophysical survey or some dowsing to try and establish this if that's what local people want," she added.
"We think the elephant was buried around here because it made it into the local newspaper at the time."
The team believes it is the first to carry out a dig in a search for a specific animal.
The young elephant was said to have fallen ill after drinking contaminated water in the town in 1848.
Circus troupe
It is believed to have been part of Batty's Travelling Menageries, a circus troupe which entertained widely in the area that year.
The menagerie apparently had at least three other elephants but was forced to leave Jwmbi behind.
Dr Bezant added: "Although we failed to locate the elephant's grave this time, we are extremely pleased with the support and response of the local community.
"This has helped to raise the profile of this rural area and strengthened links between the university and the town. We have had e-mails from all across the world."
The dig finished ahead of time due to the huge number of volunteers, including pupils from Tregaron Primary School, who turned up to help.
Archaeologists continue to gather local stories about the elephant and other local myths and legends and would like anyone who has any information to get in touch by e-mailing Jemma Bezant at j.bezant@tsd.ac.uk.
People can also follow the project's developments on Facebook and Twitter.