Trawsfynydd nuclear plant: Decommissioning speeded up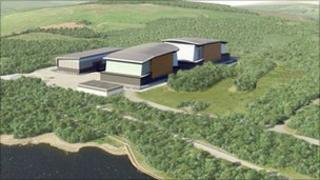 The clean up at a closed nuclear power station in Snowdonia will be speeded up, it has been agreed.
The Nuclear Decommissioning Authority (NDA) has approved plans for the current phase of decommissioning at the Trawsfynydd plant to be completed by 2016, instead of 2022.
It is expected that an extra 150 to 200 contractors will be taken on to help carry out the work.
The total workforce at the site would increase to around 800.
The plan to speed up the process was first put forward in July last year and has been included in the NDA's business plan for 2011-2014.
The NDA said its overall business plan "represents a strong and sustained investment in the UK nuclear clean-up programme".
According to the report, the Wylfa plant on Anglesey will continue to generate electricity in 2011-12 before preparations for decommissioning are made.
There will also be a review of the opportunity for personnel and skills to transfer between Trawsfynydd, Wylfa and a possible second nuclear plant being built on Anglesey.
"The business plan supports the taking forward of an optimised approach within the Magnox fleet, identifying Trawsfynydd and Bradwell as lead sites for accelerated decommissioning," said the report.
"Further progress will be made in defuelling at Chapelcross, Sizewell A and Dungeness A, with generation continuing at Oldbury and Wylfa."