Clwydian Range AONB extension decision goes to minister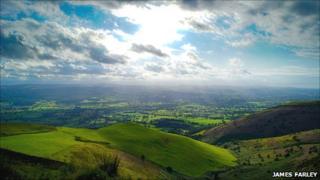 Controversial plans to extend official beauty spot status around the Clwydian Range are being moved forward.
The Countryside Council for Wales (CCW) wants to widen the Clwydian Range Area of Outstanding Natural Beauty (AONB) to incorporate Llangollen and Dee Valley.
At a meeting, members agreed to pass the plans on to Environment Minister Jane Davidson for final approval.
The National Farmers' Union (NFU) Cymru has raised concerns about the effect the extension could have on business.
Supporters and objectors made presentations before CCW members in Llangollen on Monday.
Afterwards, CCW chairman Morgan Parry said: "Council felt that a compelling case was made for designation because of the opportunities it will bring in terms of managing the area in a sustainable way to address pressures relating to increasing tourism, impacts of unmanaged recreational activity and potentially harmful development.
"Whilst we have decided to progress, we are fully aware of the need to continue to reassure farmers in the area that designation would not interfere with land management practices and designation would not bring new restrictions on agricultural activities."
A five-week statutory consultation period has just closed.
That followed an initial four-month public consultation, which ended on 31 January, where various groups had the chance to give their views.
Denbighshire and Wrexham councils, with several voluntary organisations and businesses, lent their support.
Land management
But NFU Cymru has opposed the plans, and said more consultation on the impact on land management was required.
The CCW has already pointed out that AONB designation would not bring about new restrictions on agricultural activities.
Previously, NFU Cymru president Ed Bailey said: "I am very concerned that the process of designation is being rushed and that the genuine concerns and questions that have been raised have not been answered.
"I think CCW is wrong not to have done an impact assessment of the proposal."
Some residents had asked that Ceiriog Valley and Berwyn should also be included in the extended area, but the CCW believes more work needs to be done before that can be considered.
All responses received during two consultations will now be sent to the Welsh Assembly Government for final approval.