Ryder Cup golf's '£82.4m boost to economy of Wales'
23 March 2011

From the section

Wales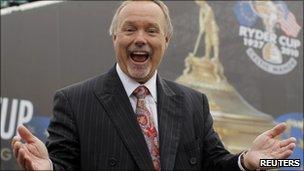 The 2010 Ryder Cup in Newport boosted the Welsh economy by £82.4m, according to an economic impact study.
It took into account money spent on and off site, local travel, and any extended stays by visitors.
European Ryder Cup director Richard Hills said such events "deliver considerable direct and indirect benefits to the host nation and venue."
The survey was jointly funded by the major partners who staged golf's biggest tournament.
Thousands of visitors helped focus the sporting spotlight on Wales, with the total attendance for the week of the match being 244,000.
The total spend, including multipliers, was £82.4m spent across Wales during the week of the event and this included south east Wales drawing an impact of £74.6m and Newport £28.3m.
The estimate excludes extra spending by visitors associated with the unexpected additional day's play of the rain-affected tournament.
The study, conducted by IFM Sports Marketing Surveys, involved more than 1,250 face-to-face interviews with spectators during the event, followed by nearly 3,000 online.
This was supported by interviews with 254 volunteers, 400 local Welsh businesses, 50 Welsh golf clubs and 472 local residents.
Of the spectators interviewed, 69% had come from outside Wales, including 7% from the USA and Canada.
The majority of respondents from outside Wales confirmed that they were either "satisfied" or "very satisfied" with the welcome they received (84%) and said their experience made it more likely they would visit Wales to play golf (61%).
'Enormous investment'
The findings follow an earlier study which suggested a 21% boost to proceeds from golf tourism in Wales in 2010 to nearly £42m.
Russell Phillips, vice president of facilities and development at the Celtic Manor in Newport, said the returns vindicated the "enormous investment" the venue made in attracting and hosting the Ryder Cup.
"Here at Celtic Manor, we experienced substantial increases in golf and leisure revenues in 2009 and 2010, and we've seen a further rise in bookings for 2011," he said.
"As a nation, Wales has undoubtedly gained huge benefits not only through the direct revenue injected into the economy but also in terms of recognition of the Wales brand globally."
Newport council leader Matthew Evans welcomed the higher profile the event had given the host city.
"Newport has clearly benefited quite considerably from hosting The 2010 Ryder Cup - not only during the week of the event, as this study shows, but in the run-up and in the longer term.
"Many local businesses gained directly as a result of the event although we always recognised it was not going to bring financial rewards for everyone, especially in view of the economic climate.
"However, the 2010 Ryder Cup has left a number of legacies which will last long into the future including environmental and infrastructure enhancements, new opportunities for our children and worldwide recognition for the city as well as the continuation of the highly successful Newport Festival in 2011."