South east Wales 'needs £2.5bn metro rail network'
1 February 2011

From the section

Wales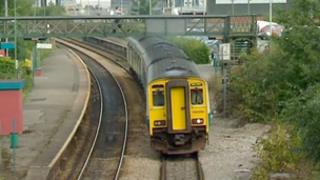 South east Wales needs a "metro" rail network to promote economic growth in the region and beyond, a report says.
The Cardiff Business Partnership (CBP) report calls for an investment of £2.5bn over 10 years to connect Cardiff, Newport and the valleys.
By 2025 it should be possible to travel from the Heads of the Valleys to the capital in 40 minutes, it says.
David Stevens of CBP said the move would make "a significant contribution to improving Wales' economic fortunes".
The report, Connecting Cardiff, Newport and the Valleys - A Metro for Wales' Capital City Region, makes the case for a major, long-term investment in the area's rail infrastructure.
The report says a metro network, combining electrified heavy rail and light rail systems, would be boosted by faster rail links to London and Heathrow - should the UK government give the go-ahead to electrification of the line into Wales.
It adds that Wales needs to target fewer but more strategic projects to tackle economic inactivity in the valleys.
Launching the report, David Stevens, CBP director and operations director of Admiral Insurance PLC, said: "Around the world, the success of city region economies is becoming increasingly dependent on high capacity, high quality, intra and inter regional public transport systems."
Mr Stevens said aspiring UK city regions such as Manchester, Leeds, Sheffield, Nottingham and Edinburgh were busy developing and expanding modern urban transit systems to boost their economies.
He added: "Given the evidence from around the world, the Cardiff Business Partnership believes the delivery of a new vision, combined with a coherent economic strategy for the entire Cardiff city region, will make a significant contribution to improving Wales' economic fortunes.
"Consequently, it should be a priority for the governments at both Cardiff and Westminster, and for local authorities and the business community."
Roy J. Thomas, director of CBP which represents leading businesses in Cardiff, said the time was right to develop and implement the transport vision.
"This would enable the Cardiff city region population to travel far more quickly and easily, and also radically enhance the economic connectivity which is essential," he said.
"Wales should look outward not inward for growth. We need to get moving and stop the decline of the last 10 years.
"To increase Welsh GDP Cardiff is essential, especially as 100,000 travel to work to the city each day".
An assembly government spokesperson said it was committed to creating a modern, efficient public transport network and the report added to the debate.
"This is why the Deputy First Minister Ieuan Wyn Jones said only last week that we believe it is essential that the UK government commits to the electrification of the main line between Swansea and London," said a spokesman.
"Not only will it boost the economy and help us achieve our ambitions for the environment - but it would open up future option to electrify further rail lines within Wales, such as those serving the valleys."