Protest at search rescue cuts affecting Bristol Channel
31 October 2010

From the section

Wales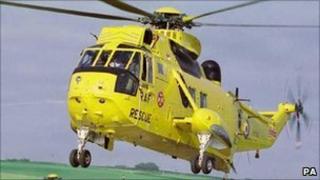 A demonstration has been held on the south Wales coast over proposals for search and rescue at Chivenor in Devon.
More than 100 people protested at Rest Bay, Porthcawl, called when the Ministry of Defence [MoD] planned to halve 24-hour cover at Chivenor.
But those proposals were suspended in the Spending Review.
The Department for Transport said no decision had yet been taken, but there will be "the same amount of search and rescue cover" afterwards.
Among those at the protest were politicians such as Bridgend Labour MP Madeleine Moon and South Wales West Liberal Democrat AM Peter Black.
Chivenor currently provides 24-hour search and rescue cover across south Wales, north Devon, Somerset, and the Bristol Channel.
But under changes put forward in March, night-time cover would be provided from RNAS Culdrose in Cornwall, or RAF Valley on Anglesey.
The protest was organised by Porthcawl town councillor Sean Aspey, who said: "People didn't realise that Chivenor covered so much of our coast. Some even thought RAF Brawdy was still open.
He said the protest campaign had spread to south Wales from Devon, where it was launched by the mayor of Ilfracombe.
'Fair share'
"We've taken it over because of the large centre of population on the Welsh side - about three million - who will be affected by the downgrading of Chivenor."
He said responses had come in from people in Swansea, Pembrokeshire, Carmarthenshire, Cardiff, Vale of Glamorgan, Caerphilly, Monmouth, Bridgend and Newport.
"Chivenor was involved in 280 rescues in south Wales last year. We have had more than our fair share in Porthcawl over the last year.
"2010 was busier, this station is the busiest in the UK, downgrading could essentially lead to its closure."
The Department for Tranpsort said: "A thorough review of the project has been conducted by the Department For Transport (DfT) and the MoD in consultation with the preferred bidder.
"No decisions have yet been taken.
"We will ensure that we maintain the same amount of search and rescue cover after the decision has been made."