One-armed golf's 'Ryder Cup' starts at Chepstow club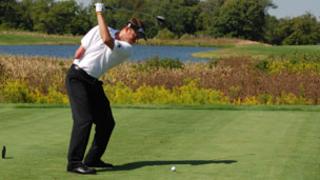 An international tournament which is the equivalent of the Ryder Cup for one-armed golfers is taking place.
The Fightmaster Cup tees off at the St Pierre Club in Chepstow, Monmouthshire, a few miles from next month's Ryder Cup venue, the Celtic Manor at Newport.
The North American One Armed Golf Association will take on the Society of One-Armed Golfers, representing players from the rest of the world.
Society team captain Malcolm Guy said there was a "Ryder Cup atmosphere".
Mr Guy called it "very competitive".
"This week it's been sort of friendly practice matches and a friendly get together with small competitions.
"But once it starts... that's it - it's competitive hats on and each guy is out to win."
Players in the Chepstow event will include this year's one-armed golf world champion Darren Grey, from Darlington, and the seven-time world champion Nicolas Champness.
The first Fightmaster Cup took place two years ago and the competition has won the support of international golf champion Sergio Garcia.
Garcia said: "I have great admiration for these golfers who chase their dream and focus on their abilities instead of disabilities.
"The first Fightmaster Cup was a great success two years ago, and we should all look at this event as a great example of the strength of the human spirit and sportsmanship.
Mr Guy said one-armed golf was "like any sport".
"You've got to persevere with it to become good. And the guys we've got here are in the top 24 guys in the world for one-armed golf .
He said the challenges faced by the players were just the same as those faced by able-bodied golfers.
'Green to the tee'
"You've got to get that ball from the green to the tee in as least strokes as possible."
The inaugural Fightmaster Cup took place in Louisville, Kentucky in 2008 and was won by the USA.
The competition is organised by the Society of One-Armed Golfers, which was set up in 1932, initially for servicemen who had lost an arm in World War I.
Members now include players with birth defects, those who have had industrial accidents, and others who have had a stroke.
Mr Guy said: "This is a great opportunity to compete as a team against the world's leading one-armed golfers.
"We are a strong team and I hope we can demonstrate the passion from our team players and win this year."
Meanwhile, the Ryder Cup takes place at Celtic Manor Resort, Newport, from 1 to 3 October.