Transport group funds Dunblane town centre upgrade work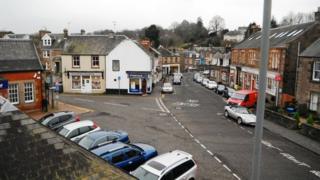 Dunblane town centre is set for a £550,000 refurbishment after funds were secured from a national transport partnership.
Work will focus on the area between Dunblane Station and the High Street, improving the streetscape and making it more pedestrian and cycle friendly.
Funding for the project was provided by sustainable transport charity Sustrans.
Stirling Council will work with the community to draw up plans before starting work next year.
A steering group of local community representatives has been set up to develop ideas and will be organising events through the year to gather views.
Council leader Johanna Boyd said: "This is a great opportunity to improve the appearance of, and accessibility to, Dunblane town centre for local people, businesses and visitors.
"It also builds upon the extensive works being carried out by the council in Stirling city centre and elsewhere."
Network Rail has also been carrying out work at the railway station to improve access to the town centre.