Tributes to canoeist found dead after Loch Tay search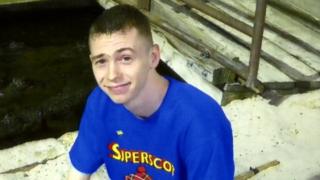 The family of a man who died after his canoe capsized on Loch Tay are have paid tribute to "a loving son and wonderful friend".
Darren Gilpin was found dead on Sunday after a huge police search operation at the Perthshire loch.
The 29-year-old's parents said they were "shocked and utterly devastated" by their loss.
They also thanked the emergency services who helped in the search for their son.
Mr Gilpin was in a two-man canoe which capsized on the loch, near Killin, on Saturday evening.
His friend made it to the shore and raised the alarm, but a major search aided by a helicopter only recovered the Edinburgh man's body late on Sunday.
'Infectious personality'
In a statement, Mr Gilpin's parents Kevin and Carol said: "Darren was the comedian of the family and had a great sense of humour.
"He was always laughing and smiling and his infectious personality made him a joy to be around.
"As well as being a loving son and a wonderful friend, Darren was also completely devoted to his partner Elaine, who he had been with for the past 11 years.
"Darren loved all types of music, computer gaming and sport - in particular football. He was an avid Hearts fan and attended many games.
"The past few days have been incredibly difficult for our family, but we would like to thank the emergency services who assisted in the search for Darren and for the support they provided to us following his death. We are also very grateful to our local community for all the kind words of support they have offered."