New Gleneagles road and rail links ahead of Ryder Cup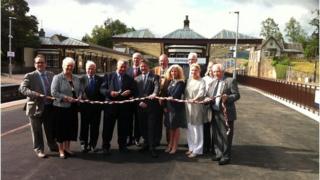 New road and rail infrastructure costing more than £7m has been unveiled in Gleneagles.
A £3.5m refurbishment of Gleneagles Station is complemented by a new £3.9m link road to the nearby A9.
New lifts, waiting rooms, toilets, wi-fi access and an improved car park have been installed at the station.
Gleneagles hosts the 2014 Ryder Cup in September, and Transport Minister Keith Brown said the investment would provide a "lasting legacy" for locals.
About 100 car parking spaces have been created at the station, along with cycle racks and a bus turning area.
The new link road is designed to provide safer access to the A9 heading north and south.
The £7.4m cost of the work was met by Transport Scotland, Perth and Kinross Council, First ScotRail, Network Rail, and transport group Tactran.
'Lasting legacy'
Mr Brown said the road and rail enhancements would help the area welcome golf fans during September's tournament, but noted they were "designed to ensure long-term benefits for the local community".
Antonia Beggs, operations director at Ryder Cup Europe, said 250,000 people would visit Gleneagles during the biennial showdown between the USA and Europe.
She added: "The creation of the improved road access to Gleneagles Station will provide a lasting legacy to local residents.
"We are delighted that these improvements have been put in place to help create a world-class event experience for ticket-holders."
An extra 7,500 spaces will be available daily on train services to Gleneagles during the tournament, which runs from 23 to 28 September, and a temporary footbridge will also be installed over the A9.