Bannockburn disabled riding centre ordered to quit land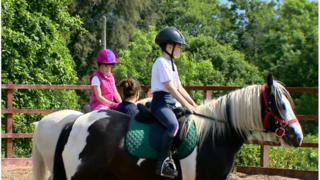 A horseriding centre for disabled youths is facing an uncertain future after it was ordered to quit its Bannockburn site.
Management at Bannockburn Riding for the Disabled have been in dispute with the landowner at Sauchieburn Estate over the state of access roads.
And they've now been served with a legal notice to vacate the land.
Parents and staff are debating whether to fight the order or try to find a new home for the service.
The centre has been used by young people of a range of ages and with a range of different disabilities for two decades. It currently has around 200 members.
Steven Smith's daughter Millie, 7, has cerebral palsy and has been riding at the centre for a year.
He said the "fantastic" service had helped his daughter no end.
"First and foremost it's given her confidence, more mobility, and more strength in her muscles," he said.
"It's improved her stamina and her confidence around people.
"It's become a vital component of Millie's week - it took us a long time to get a place here through the waiting list and it's part of her routine and her rehabilitation now."
The group's managers have been locked in a long-running dispute with landowner Bill Roddie, who owns a company called Spectrum Properties, about the state of an access road to the centre which has become almost impassable to many vehicles.
'Very distressing'
Centre manager Carol Brown said it was "very difficult" if not impossible for most centre users to get down the heavily pot-holed road.
"Many of our riders have to use specially adapted vehicles or come by minibus from schools or centres," she said.
"A small group are managing to get her with the help of our Land Rover.
"We'd been expecting the notice to quit for a little while, and we now have to wait and see if that ends up in court proceedings.
"The options we have are to either try and remain here, where we've made investment and have a fantastic facility, or look for somewhere else that's suitable to house the riders we have.
"It's very distressing - the staff are worried because of their jobs, and the riders are distressed because it's impacting on their routine and their health and wellbeing."
A statement from Spectrum Properties (Scotland) Ltd claimed the riding centre had "no legal right to enter into a contract of lease" for the land.
The statement continued: "We were also concerned about the safety and wellbeing of the disabled riders where the Bannockburn group has failed to respond to questions raised by Spectrum as to the existence of insurance.
"Spectrum has also offered to take this issue to a neutral mediator but the Bannockburn group has refused to specify an agenda for talks.
"The behaviour of this organisation has left us with no option but to seek their removal from the site."