Scottish Cities Alliance plans for Stirling investment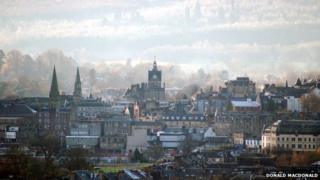 Stirling is to benefit from new housing, sports facilities, motorway access and business premises as part of a major investment scheme.
A detailed development plan has been put together to decide the city's part in a national investment project.
The Scottish Cities Alliance has drawn up a £6bn blueprint for infrastructure improvement in Scotland's seven cities.
Stirling's City Investment Plan (CIP) was developed through consultation with local businesses and agencies.
Priorities in the plan include enhancing broadband access in the city, developing a new M9/A811 junction for improved access to the city centre, a Stirling heritage park, an extension to the Sports Village with new facilities, and improved transport links to Durieshill, south Stirling, and the Kildean to Bridge of Allan corridor.
New housing developments on vacant sites in the city centre have also been targeted, along with development of business premises at the Kildean Business Park to attract new and expanding companies.
The Scottish Cities Alliance (SCA) is made up of the country's seven city councils; Aberdeen, Dundee, Glasgow, Edinburgh, Stirling, Highland, which includes Inverness, and Perth and Kinross, which joined the group after Perth won city status in 2012.
'Investment pipeline'
Stirling Council depute chief executive Stewart Carruth is also strategic director of the SCA.
He said: "This is the first time that Scotland's cities have been able to present a coherent, complementary and ambitious investment pipeline which, in the view of PwC (PricewaterhouseCoopers), 'has the capacity to deliver a step change in Scotland's medium term growth prospects'.
"Over the coming weeks the cities, Scottish Government and national agencies will develop and build this prospectus for cities which will deliver much needed economic infrastructure in Scotland.
"When we next meet in June we will consider how we can develop infrastructure and investment opportunities in areas such as housing and commercial business premises."
Stirling council leader Johanna Boyd added: "Our cities have always played an important role in driving forward the economic success of this country.
"The SCA is maximising the sum of its parts and creating a more strategic framework for the future economic growth and sustainability of our cities."