Stirling shops and homes evacuated after suspected gas leak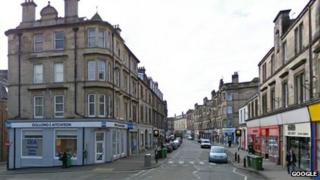 Shops and properties in Stirling have been evacuated following a suspected gas leak.
Police, fire officers and gas engineers were called to Barnton Street at 12:35 on Friday.
Police officers have set-up a 100m exclusion zone to ensure public safety following reports of a smell of gas.
Engineers were digging up the road to cap the pipe and locate the leak. The property affected was identified as a single shop on the street.
No other properties are believed to have been affected.
'Permanent repair'
A spokeswoman for Scotland Gas Networks confirmed an exclusion zone had been put in place in the street while engineers carried out tests.
She said: "To ensure the safety of the public and our engineers, a full road closure was agreed with the local authority as the road narrows at the location where we are working. This was implemented on Wednesday.
"We check gas levels frequently during our works. Earlier today our readings indicated a level of gas in a hairdresser's shop on Barnton Street which led us to evacuate the hairdresser's shop as well as the shop at each side of it, and four occupied flats above."
"We have identified the source of the leak, which is on the service pipe at the hairdresser's shop, the situation is being made safe and a permanent repair will be made over the weekend".