Dundee has 'over-provision' of alcohol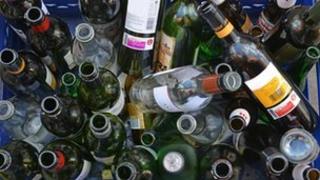 A report given to Dundee City Council's licensing board has found an over provision of alcohol in the city.
The Dundee Alcohol & Drug Partnership warned the situation was taking its toll on the city's health and economy.
They are calling for future alcohol licence applications to be refused unless applicants can show they will not contribute to the problem.
Since 2009, off-sales licences in Dundee increased by 24.5% while on-sales licences went up 13.6%.
Figures show Dundee has one of the highest rates of alcohol-related mortality in Scotland.
Anecdotal evidence from Ninewells Hospital recorded in the report also suggested that about 80% of Accident and Emergency attendances between 23:00 and 04:00 were alcohol related.
The study is due to be presented to board members on Thursday by NHS Tayside's director of public health Dr Drew Walker, Dundee Citizen of the Year Joyce McIntosh and Peter Allan, community planning manager at Dundee City Council.
It includes the views of local community groups and residents, who said Dundee was over-provided for in terms of both off-sales and on-sales licensed premises.
'Consumption levels'
They said the issue of retailers providing cheap alcohol was encouraging anti-social behaviour, noise nuisance and the risk of escalating violence.
Residents also expressed concerns about the length of the opening hours of on-sales premises.
Dr Walker said: "There is a substantial body of evidence that increased availability of alcohol is associated with increased consumption, and that measures to limit the availability, accessibility and affordability of alcohol would have a beneficial impact in reducing both consumption levels and alcohol-related harm."
He added: "Assessing the level of alcohol availability and alcohol-related harm, both in relation to health and community life, this report demonstrates that the city is over-provided for in respect of both off-sales and on-sales licensed premises."
Peter Allan, Dundee City Council's community planning manager, said: "Our recommendations to the board reflect that concern and we believe that, along with its existing policies and enforcement of the current regulations, the licensing board can bring about a healthier attitude to the sale and consumption of alcohol in the city."