Council moves forward with Stirling elderly care village plan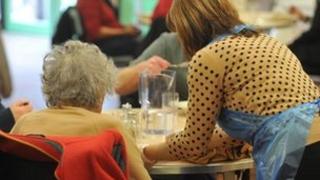 Stirling Council is to put forward a £1.8m business case to the Scottish government to build a care village for the elderly in the city.
The development, which would feature health care as well as residential units for the elderly, could be operational in 2017, the council said.
NHS Forth Valley are also involved in the project, which could cost £55m.
The council are due to submit an Outline Business Case to ministers in the new year.
Plans for the care village - to be sited at Stirling Community Hospital - will include residential and respite care along with services for those who require additional short-term care following an illness.
The site will also cater for acute hospital admissions as well as specialist support for patients with dementia and those who require palliative and end of life care.
Councillor Christine Simpson said: "When we asked older people, most of them wanted to live independently in their own homes for as long as possible.
"The Stirling Care Village could make this a reality by bringing together a wide range of health and care services in a modern, purpose-built facility.
"With more than 100 short-stay care beds, the Stirling Care Village would provide a comfortable, homely environment for older people to help them recover, regain their independence and, in the majority of cases, return to their own homes."
Ms Simpson said a more detailed Full Business Case would be developed and submitted for approval at the end of 2014.
She added that construction could then start in 2015 with the new facilities becoming operational in 2017.