Coupar Angus chicken processing plant to cut 200 workers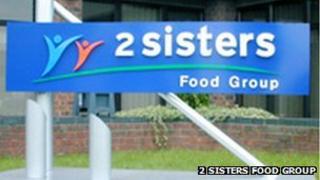 More than 200 jobs are expected to go at a chicken processing plant in Perth and Kinross.
The 2 Sisters Food Group said its Coupar Angus site, which employs 658 people, was making substantial losses.
The company has begun a 45-day consultation and expects to cut the workforce in the new year.
The group, which has 49 manufacturing sites, blamed falling consumer demand and an oversupply of chicken in the market.
A statement said that it had also found a buyer for its smaller chicken processing plant at Letham, near Forfar, in Angus.
2 Sisters took over the former Grampian Country Foods poultry processing site at Coupar Angus from food manufacturer Vion in March.
The firm took over 11 processing plants, also including those in Cambuslang and Portlethen, when Vion's Dutch parent company said it was withdrawing from Britain to focus on the Netherlands and Germany.
A statement from 2 Sisters on the job losses said: "Today we are setting out a rescue plan for Scotland that will help secure the viability of the poultry industry and give us a better opportunity for future growth and success.
"Taking no action would put the future of our industry in Scotland at serious risk.
"There is an oversupply of poultry in Scotland, which has historically been the least efficient manufacturing base.
"There is also evidence of a decline in the UK poultry market due to changes in consumer demand. This situation is unsustainable."
As well as reducing the workforce at Coupar Angus there will be changes to shift patterns and working hours for those remaining.
The statement added: "At Letham, we have worked hard to secure a future for the site, and we've found a buyer who will tap in to new niche market opportunities, where it will much more competitive in the market place."
Finance Secretary John Swinney, who is the MSP for the area, said: "This is a very serious blow to employment in Coupar Angus, with the prospect of job losses at the 2 Sisters plant and the workforce are very much in my thoughts at this difficult time."
"The fact that this comes so soon after the acquisition of the plant by 2 Sisters is a real concern. I have discussed the situation already with the management of the company and they have explained that a decline in market conditions has resulted in there being too much capacity within chicken plants.
"Unfortunately, that has resulted in jobs losses at Coupar Angus."
Mr Swinney said he would be working with the company and Scottish Enterprise over the next few weeks "to minimise the effects of this decision".
Dougie Maguire, of the Unite union, which represents 500 employees at the site, said the job losses would be "absolutely devastating".
He said: "There has been no consultation with management or even a suggestion that cuts were in the pipeline - it's a stunning development and particularly so soon after the Vion buyout."
The 2 Sisters Food Group is a privately-owned company which has its headquarters in Birmingham.
Over the past 20 years it has grown from a small-scale frozen retail cutting operation to a company which supplies poultry, red meat, chilled, bakery and frozen items to supermarkets and other large retailers.
It is mainly a private label manufacturer but also produces brands such as Buxted, Fox's Biscuits and Goodfella's Pizza.
2 Sisters has 49 sites in the UK, Ireland, Holland and Poland, which employ about 24,000 people.