Dundee to move forward with plans after City of Culture loss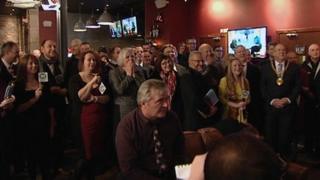 A "significant" number of events planned for Dundee will still happen despite missing out on the UK City of Culture title, the leader of its failed bid has said.
Stewart Murdoch said the team was "broken-hearted" after losing out to Hull.
Dundee had proposed a £25m package of events if they were to win the prize.
Its bid included plans to host the Turner Prize, Man Booker Prize, large music events and a comic convention.
Mr Murdoch said: "A significant amount of the events will still go ahead. What won't happen are the 'big bangs' that only the City of Culture title can put on.
"In terms of our commitment to the V&A, to the Waterfront and to maintaining a really diverse cultural ecology in the city, we won't shrink from that for a second."
If Dundee had won the bid, it could potentially have been UK City of Culture while being part of an independent Scotland - provided there was a Yes vote in next year's referendum.
'Greater need'
Organisers said they did not believe the referendum played a part in the Department of Culture's decision.
Fellow Dundee bid director Bryan Beattie said: "We felt we had done everything. I still feel we have done everything.
"I suspect that the judges felt that Hull had a greater need than us."
Dundee Lord Provost Bob Duncan said: "So much good feeling has been generated throughout the city and I think we will carry that forward to have our own personal 2017."
MSPs were told last week that the city could have seen £80m of spending by tourists if it secured the City of Culture title.
Scotland's Culture Secretary Fiona Hyslop said: "This is obviously disappointing news for Dundee and for the bid team, and I have passed on my commiserations.
"The recent parliamentary debate demonstrated not only the Scottish government's backing but also the strength of cross-party support and genuine enthusiasm for their excellent bid."
SNP MEP Alyn Smith has proposed the idea of the city now applying to become the EU's Capital of Culture - which is given to at least two cities each year.