Stirling Council reaches union deal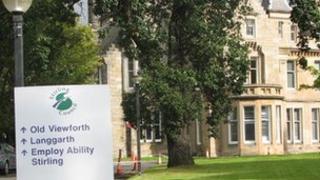 A deal has been reached between unions and Stirling Council which could end a dispute over pay.
The dispute - which has dragged on for several weeks - is over a plan to cut wages and increase the working week.
Details of the deal have yet to be announced and they will need to be put to union members for approval.
However, a joint statement from the GMB, UCATT, Unison and Unite unions said all industrial action had been suspended.
A planned march for Saturday was also suspended pending the outcome of the trade union ballots.
The dispute has centred on the council's plans for a 0.5% pay cut across all pay grades and an additional hour of work per week.
A revised offer which included a guarantee to restore the pay cut, and implement a national 1% pay rise, at a future date was rejected by the unions last month.
The council has said the changes are necessary as it needs to make savings of £24m due to a real terms cut in the funding it receives from the Scottish government.