Blind WWII veteran paints Andy Murray at Wimbledon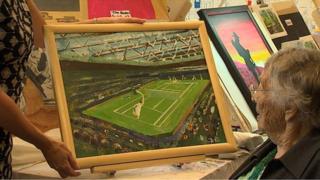 A partially-sighted WWII veteran has presented a painting of Andy Murray during his victorious Wimbledon campaign to his grandparents.
Dorothy Wheatley, who is 93 and served as a Red Cross nurse, completed the work while attending the Lindburn Centre for Scottish war blinded.
Shirley and Roy Erskine described the work as "absolutely wonderful" and said they would keep it safe for Murray.
Andy Murray is currently in New York defending his US Open title.
The picture, called Andy Murray Serving an Ace at Wimbledon, was vividly brought to life by Mrs Wheatley using a variety of textures and colours.
Despite suffering from macular degeneration, she was determined to make a good job of the painting.
She said: "It was hard work, especially the roof. I couldn't paint a straight line without some guidance."
Her instructor at the Linburn Centre in West Lothian, David Grigor, said he was amazed by her energy and enthusiasm for the project.
He said: "She arrived every day at 10 o'clock in the morning and went straight into the art area. She wouldn't leave there until three o'clock and would only take the half an hour to eat lunch and would be back to it.
"It really was an enjoyable process for her and I think really from the moment she started until the moment she finished, she felt like she was actually in the court, really cheering Andy."
'Very safe'
Murray won his first Wimbledon title and ended Britain's 77-year wait for a men's champion with a straight sets win over world number one Novak Djokovic in July.
The painting almost moved Murray's grandmother to tears.
Mrs Erskine said: "I'm quite emotional. It is absolutely wonderful. I think Andy will be thrilled.
"We'll keep it very safe for him until he comes back from all over the world."
Mrs Erskine said her grandson would travel on to Croatia and then Asia following his campaign at the US Open.
She said: "It'll be some time before he's back but we'll keep it safe.
"We will show it off though and we might even put it in Dunblane museum because there's an Andy Murray exhibition in the Cathedral Museum in Dunblane, so we may well ask if we can put it there."