Pair jailed for 'callous' William Reid murder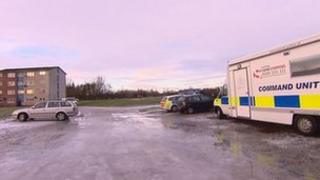 Two men have been jailed for life for battering a man then dumping him on open ground where he froze to death.
Taylor Gordon, 19, and 25-year-old Drew Paterson used domestic items as weapons to beat up their victim.
William Reid, 27, was struck with a vacuum cleaner, TV set and golf club at a flat in Perth's Inchaffray Street in December before he was dumped outside.
Judge Lady Clark said Gordon should serve at least 17 years while Paterson should serve at least 18 years.
The court heard that Mr Reid died as a result of injuries from the multiple blows and hypothermia.
Gordon and Paterson later tried to conceal their crime by dumping Mr Reid while he was still alive on a secluded patch of ground north of Bute Drive in the city.
The temperature was freezing, with frozen snow on the ground.
An anonymous 999 call by Paterson more than an hour later alerted the emergency services but despite attempts to save him by an ambulance crew he died.
Lady Clark of Calton told the High Court in Edinburgh: "I regard this as a sustained and callous attack with multiple blows."
'Total contempt'
She said that in the wake of the assault on Mr Reid the pair had shown "a callous disregard" for their victim.
"You did not seek immediate emergency help for him. Indeed you ended up dumping him in a secluded position in freezing conditions," she added.
An earlier trial heard that the pair had said they found Mr Reid in their flat after he climbed in through a window.
The victim was repeatedly punched and kicked on the head and body and stamped on.
Mr Reid was later found with more than 80 injuries. He had been put in a car and driven to Jeanfield Swifts ground and left there.
Liam Murphy, procurator fiscal for the North of Scotland, said: "This was a vicious assault by Gordon and Paterson which was compounded by their attempts to cover up their crime.
"Their victim was treated with total contempt - first beaten, bundled into the back seat of a car and then dumped in a secluded location in freezing conditions while still alive."