Ash dieback found in nature protected area of Stirling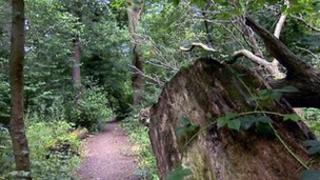 The first case of the tree disease ash dieback to be found in a protected area of Scotland has been confirmed in Balquhidderock, Stirling.
Scottish Natural Heritage confirmed a number of infectious young ash saplings had been found.
Lab tests by Forest Research confirmed chalara in two of the samples.
No mature trees have yet been confirmed as having the infection at the privately owned site, managed by Stirling Council.
Susan Davies, SNH's director of policy and advice, said: "This is the first known case of infection in a nature protected area in Scotland. Whilst not unexpected it is disappointing.
"We are working closely with Forestry Commission Scotland and others, including Stirling Council, to establish the scale of the infection and to implement the action required.
"Action is likely to involve the removal of smaller infected saplings but mature trees will be left, unless they pose an imminent safety risk.
"Mature trees are left because they have an important biodiversity value and may yet be found to have resistance to the disease."
Previous sightings
Ash dieback was first recorded in Poland in 1992, but the causal agent was only fully identified in 2010.
It is transmitted via airborne spores and the fungi can have sexual and asexual stages, which are given different taxonomic names.
Since the 1990s chalara has spread across the continent, being found in England in spring 2012 and in Scotland in August 2012.
Although it was first found in nurseries and on planted stock, it also seems likely to have reached the eastern UK as spore plumes from the continent.