Woman's arm freed from Letham dog waste bin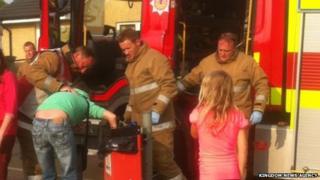 A woman had to be rescued by firefighters after getting her arm trapped inside a dog waste bin as she tried to retrieve a child's hat.
The 39-year-old spent 25 minutes jammed in the box at a play park in Perth's Letham area.
She had put her hand in the bin to try and retrieve a baseball cap outside Letham Centre sports hall.
However, she ended up completely trapped and the fire service had to be called to free her.
A crowd of people gathered as the woman's plight became clear.
One local resident said: "She must have got her arm stuck properly because it had gone blue by the time the ambulance arrived - she must have cut the circulation off."
'Absolutely disgusting'
John Smart, from Perth, added: "Those bins are designed in such a way that you can't get stuff back out - it's meant to keep the smell in.
"It was absolutely disgusting as well as looking really sore."
Another local, whose home overlooks the park, said the woman looked in severe pain.
She added: "You are just not meant to get stuff out of those bins. No-one could believe it.
"The girl looked like she was in pain because her whole arm was stuck inside and she was taken away in an ambulance."
A spokeswoman for the Scottish Fire Service said "We got a call and arrived at the scene at 6.45pm on Monday night in Letham play park.
"Detergent was used to free the woman's hand and we provided first aid assistance until the ambulance arrived."