Wedding dress, iPads and phones found at T in the Park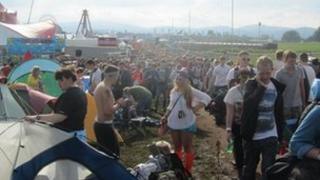 A wedding dress, iPads, smartphones and wallets are among almost 1,000 items found after last weekend's T in the Park festival.
Police said they had been inundated with calls and emails from people trying to recover lost property.
A dedicated office has been set up in Perth until 22 August, to help people recover belongings.
The wedding dress is thought to have been used for the festival's Fancy Dress Friday.
Other items recovered include a large amount of clothing, as well as purses, wallets, cameras, driving licences, bank cards and sunglasses.
Police said the process of itemising all the recoveries is ongoing, as they have been dealing with hundreds of lost property reports since the weekend.
All inquiries should be made to the T in the Park property office, which is situated in a portable building in the quadrangle at the Barrack Street station in Perth.