Garry Kenneth's partner Charlene Buist admits benefit fraud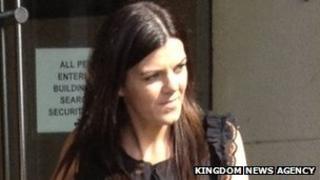 The partner of a Scotland international footballer has admitted fraudulently claiming more than £13,000 in benefits.
Charlene Buist, 26, claimed the cash in working and child tax credits, income support, housing benefit and council tax benefit.
She was living with Dundee United defender Garry Kenneth at the time. He now plays for Bristol Rovers.
Sentence at Dundee Sheriff Court was deferred.
The court heard Buist was in a relationship with Kenneth while claiming benefits, and had access to the bank account his salary was paid into.
The pair were described as being in a volatile relationship - but had became engaged at one stage and had a child together.
Bank accounts
Buist admitted three charges of benefit fraud totalling £13,652.87. The offences came to light after benefits bosses received an anonymous tip off in December 2011.
Fiscal depute Bill Kermode told the court: "Information was received from an anonymous source that Buist was living with Garry Kenneth.
"This was investigated and revealed a number of links between her and Kenneth which revealed they had joint finances and bank accounts.
"His salary was paid in to a bank account and they both made withdrawals. Enquiries with the DVLA revealed cars registered to him that they both used - and there were links established through Virgin Media and a Bank of Ireland account.
"Further enquiries showed he was employed by Dundee United Football Club. Facebook accounts revealed the couple were engaged. Neighbours said they thought the pair were living together as a family."
When Kenneth was interviewed in April 2012 his position was they had not lived together and he said he was not fully aware of her financial circumstances, Mr Kermode said.
But the footballer confirmed they had joint bank accounts and there were two cars they used together.
'Rocky and volatile'
Mr Kermode added: "When Buist was interviewed in July 2012 she confirmed she claimed benefits and was aware of her responsibility to declare any change in circumstances.
"She described the relationship as rocky and volatile at various stages. She was aware of the level of salary he received and that they had a joint account.
"She confirmed there had been plans to marry but those had changed after a falling out."
Buist, who now lives in Bristol, had originally been charged with fraudulently claiming £23,492.64 in benefits.
David Duncan, defending, said: "The couple were in an on off relationship including periods of total separation. They were not habitually residing together."
Sheriff Kenneth McGowan deferred sentence until July for social work background reports. Buist was released on bail ahead of that hearing.