Doubt cast on Police Scotland prints evidence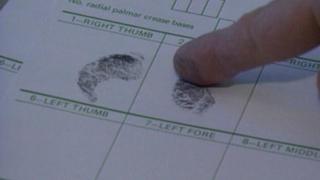 Police Scotland has confirmed it is "actively seeking clarification" on the role of civilian custody staff in taking DNA and fingerprint evidence.
The move was prompted by concerns about procedures used in the Tayside division.
The force said that staff who may not be authorised to take fingerprints or DNA would no longer do so.
A statement issued by Police Scotland insisted there had been "no impact" on service provision.
Ch Supt Ciorstan Shearer, the commander of Police Scotland's custody division, said: "As a precaution, Police Scotland is actively seeking clarification from criminal justice partners in respect of the roles and responsibilities of staff working within custody centres across Scotland.
''Police Scotland has established a National Custody Division that is committed to the highest standards of practice and service delivery. By identifying this matter now, we can ensure that the exacting standards set by Police Scotland will be applied consistently across the country.
''When our review identified a potential issue in respect of processing prisoners, we took a proactive decision to ensure staff that could be affected were no longer carrying out these particular duties - specifically, taking samples from people taken into custody."
Authorised staff
Some civilian employees are authorised to undertake specialised evidence-gathering, including DNA testing and fingerprinting.
Their work, and the work undertaken by police officers, will not be affected.
Ch Supt Shearer added: "The role of police officers in custody centres is not affected and we are confident there is no impact on service provision. We will continue to liaise closely with staff associations and other partners during this process to ensure they are fully informed."
Unison, the union which represents some of the civilian police workers, suggested the problem may be confined to Tayside.
George McIrvine, the union's police staff Scotland branch secretary, said: "There appears to be a local problem in Tayside around authorisation and training. While this needs to be resolved urgently, there is no issue about properly qualified and certified police custody and security officers taking these samples.
"That is a normal part of their job, carried out across Scotland on a daily basis and that will continue to be the case."