New centre planned in Dundee for offshore wind power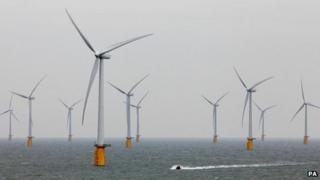 Plans have been announced for an Offshore Renewables Institute, based in Dundee.
The institute is intended to offer consultancy, research, policy advice and professional development.
It will bring together experts from the University of Dundee, the University of Aberdeen and Robert Gordon University in Aberdeen.
Prof Paul Mitchell, the institute's director, said it would allow experts to work together to a common goal.
The Scottish government's targets on climate change call on the electricity industry to cut its greenhouse gas emissions by 80% by 2030.
Prof Mitchell, who will give more detail about the plans for the institute at the All-Energy 2013 event in Aberdeen, said: "The UK and Scottish governments have set ambitious targets for 2020 for offshore wind deployment. This presents us with an array of challenges - and not only in terms of the improving technology.
"We need to look at the environmental impact of such large developments, the legal issues, safety of course - and how we can increase efficiency and reduce costs over the lifetime of a project.
"We need a variety of experts around these problems, all working together to a common goal."
The backers of the institute said it would work with the industry in the North Sea and globally.
Prof Ferdinand von Prondzynski, of Robert Gordon University, said: "This is a fantastic partnership project which combines the very best of what our institutions have to offer in terms of skills and experience."