Unions to ballot Stirling Council staff for strike over pay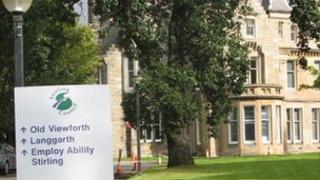 Staff at Stirling Council are to be balloted for strike action in a row over pay and conditions.
Leaders of Unison, Unite, the GMB and Ucatt have accused the local authority of "walking away" from negotiations.
They said they had been left with no alternative but to ballot members for industrial action after the council indicated it was moving away from the collective bargaining process.
The council said it was "disappointed" no agreement had been reached.
The local authority is looking to make £24m worth of savings in order to balance its budget.
It has begun a consultation with staff on cost-saving employment changes.
The options being considered include reducing the working week by one hour and cutting pay accordingly, or increasing the working week by an hour and keeping pay at the same level, which would effectively lead to a drop in pay.
Pay freeze
A joint unions statement said: "Stirling Council proposes savage cuts to both pay and terms and conditions, coming on the back of three years of a pay freeze."
The council said negotiations with the unions had been ongoing since January 2013 and concluded after a series of meetings failed to secure an agreement.
Chief executive Bob Jack said: "I am disappointed that no negotiated agreement on these changes was possible and therefore the guarantees offered to the trade unions of no compulsory redundancies, no further local changes to terms of employment and restoration in later years of reductions in pay cannot be secured.
"The trades unions have made it clear that consultation with all employees means the end of negotiations on a collective bargaining agreement."
The council said it was now moving to consult staff about the options for changes to the working week and the resulting reduction in pay.