Escaped wildlife park raccoon found in Callander garden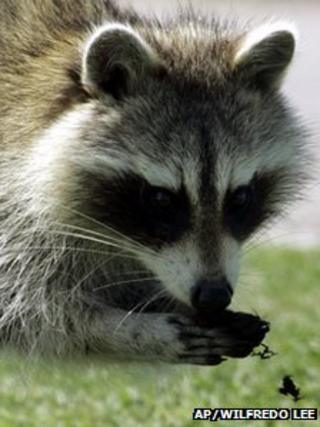 A raccoon who escaped from a Perthshire wildlife park has been captured after more than three months on the run.
The raccoon, dubbed Ronnie, was one of three who went missing after a branch hit an Auchingarrich Wildlife Centre enclosure during a storm in January.
The other two were quickly recaptured.
The third was finally tracked down 30 miles away in a garden in Callander. The home owner had become suspicious after noticing something had been eating his cat's food.
Tom Hammond, 66, alerted park staff who borrowed traps from Scottish Natural Heritage, and hid one under a tarpaulin in Mr Hammond's garden, baited with cat food.
After inspecting the traps daily for several weeks, park owner Andrew Scott found the raccoon on Thursday morning.
Happy ending
Ronnie - named after escaped train robber Ronnie Biggs - was checked over by a vet and found to be suffering from no ill-effects.
Mr Scott said: "We didn't think we were going to get him, but we went through every morning checking the traps.
"We caught quite a few cats, and some birds - all of which we let go - and then, underneath a tarpaulin where we had put a trap, there he was, right as rain."
He added: "He's happy, healthy, and back in his run with loads of females and having a good time."
Police had issued a warning urging people not to try to corner the raccoon as he may bite.
Mr Hammond said: "He was having to fend for himself and he certainly likes cat food.
"I am glad there has been a happy ending as I don't think it's a good idea to have an animal that isn't indigenous to the country roaming about."