AC/DC back plans for a Bon Scott statue in Kirriemuir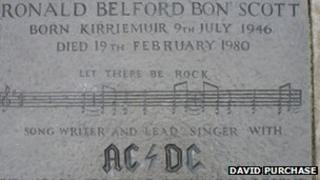 A campaign to erect a statue in honour of AC/DC front man Bon Scott in his home town of Kirriemuir has gained online backing from the band.
Local group DD8 Music launched the project on the website kickstarter at the beginning of the month.
They are hoping to raise £50,000 by 5 June in order to create the life-sized statue.
The campaign has now been highlighted on the AC/DC website, which has called on fans to give their support.
Ronald Belford Scott was born in the Angus town in July 1946 and spent his formative years there.
He died in London in 1980.
Existing tributes
His links to Kirriemuir are already celebrated in the annual Bon Scott Festival, where hundreds of fans travel to the town for two days of rock music.
It has been run by DD8 since 2006 and all the profits go back into community music projects.
A street and memorial stone have also been dedicated to him.
DD8 said they hoped to have the statue ready to be revealed at next year's festival and have commissioned Ayrshire sculptor John McKenna.
The campaigners said they had "full support of all our local councillors and we have been offered support from several local businesses".
The project is being supported through kickstarter as DD8 said they wanted it to be "funded by the fans for the fans".
'Good sign'
Graham Galloway from DD8 said it was a big boost to get the campaign on the band's website.
He said: "They don't just put anything up there, so it's certainly a big step forward for us in getting world wide support for the statue."
He said while the had not yet heard anything official from the band, it was a positive development.
Mr Galloway added: "We wouldn't want to put words in their mouths, certainly it's a good sign."