Demolition of Dundee's Harris Academy building could begin by September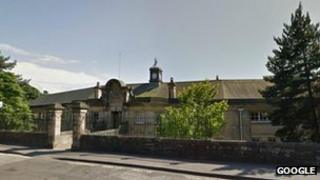 The demolition of Dundee's Harris Academy building could begin in the autumn, a report has said.
An update on plans to knock down the old school will be given to councillors on the education committee on Monday.
Members will be told work could start by September and that the costs to the council should not exceed a previously reported £12m.
Permission to demolish the existing school was granted in April as part of a £31m project to replace the building.
However, not all of the 1931 structure will be knocked down - some features such as the clock tower and stone entrance portico will be retained and reused.
Retaining traditions
Education convener councillor Stewart Hunter said: "These are exciting times for everyone connected with Harris Academy.
"I am pleased that funding through the Scottish Futures Trust will help provide this excellent solution for the school community.
"Pupils are now preparing to take up temporary residence in the former Rockwell building for the duration of the project."
He added: "While the traditions of Harris still remain integral to its ethos, the school will be leading the way for a new type of building that is fit for the educational challenges of the years ahead.
"We have been working closely with the Scottish government to ensure that this major investment is in place."